Testimonials
Kyle Balcerski on Dec 26, 2022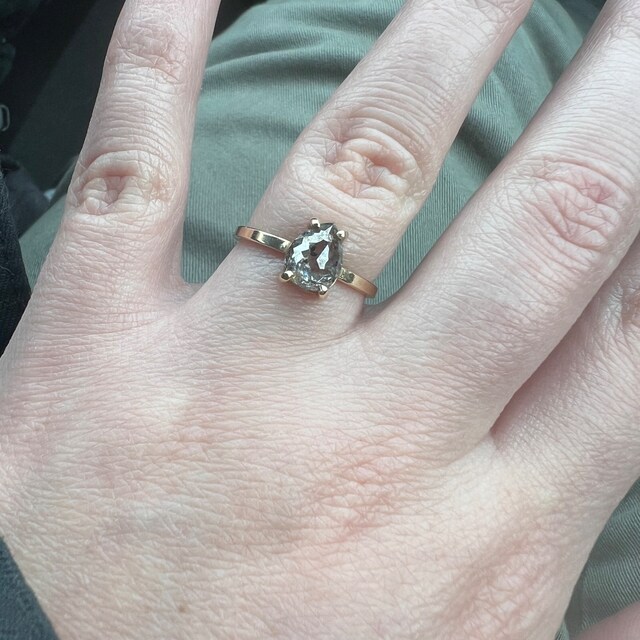 Alycia is an exceptional artist, metalsmith, jeweler, and person. She went above and beyond helping me purchase this ring. The salt and pepper diamonds are unique and beautiful and the band is perfectly crafted- my fiancé is blown away. I highly recommend purchasing anything from mossNstone and will be back for bands.
Jimmy on Dec 10, 2022


Incredible work! We love the ring and everything was exactly as described, after I was able to customize the size/shape. Thank you so much!
Sean on Oct 1, 2022


Stunning! Exceeded my expectations. Beautiful packaging/presentation too.
lance on Sep 12, 2022

Alycia promptly confirmed any changes that were needed with the engagement ring stack. White gold and salt and pepper diamonds. It arrived on time and the look and quality of the craftmanship was also as authentic as the product line suggests. I will be ordering the grooms ring and any other jewelry gift items from here in the future.
Stephanie on May 31, 2022

Alycia was super helpful throughout the whole process, and both my engagement ring and wedding band turned out beautiful. They were exactly what I was hoping for and more!

Lina on May 14, 2022


Alycia has made both my engagement and wedding rings! They are both stunning and strike such a perfect balance between classic and organic. I am also so glad to have found something unique but durable that also would allow me to slip on/off latex gloves multiple times a day. I messaged Alycia quite a bit for a special request and she was kind and accommodating throughout the whole process. Highly recommended by me!
Allison on Apr 7, 2022


Thank you for my beautiful ring! It fits perfectly and has a beautiful finish.Very much appreciate your help with my slightly custom request. ❤️
Ashley on Mar 9, 2022


Absolutely stunning! I couldn't have asked for a better wedding band. Thank you for getting them to us so soon.
Benton on Feb 22, 2022


The ring was perfect, easy process. My wife loved it!
Matthew on Dec 23, 2021 
A smooth shopping experience with a perfect result.
Katie on Dec 12, 2021
I have to say Alycia did a great job on this ring. I am not a "ring person" at all. But her ring is so nice I don't even feel it on my finger. Great job !!!
Deane Smith on Dec 6, 2021 
Yalitza on Nov 29, 2021
I just want to say that I'm absolutely IN LOVE with my engagement ring! We honestly couldn't have gone a better route. Delivery was spot on, the box it came in was in perfect condition and my ring, ladies and gentlemen, my ring is everything I could've hoped for. Thank you for your amazing work!
Natasha on Nov 3, 2021 
My ring is more than I could have hoped for. It's absolutely stunning. I cannot wait to add more to my set as the anniversaries run in 🥰
Tessa on Nov 2, 2021 
Couldn't have asked for anything more perfect!
Andrew on Oct 28, 2021 
Absolutely beautiful, and she said yes, so I really couldn't ask for anything else!
David on Jul 10, 2021 


Beautiful ring. I was eyeing it for a long time. Bought it as an engagement ring. Shop owner was very helpful sending pictures.
Zac on Jul 9, 2021

Absolutely perfect!!
Ethan on Jul 5, 2021

Simply stunning, love the way it looks and feels
ethangaskins1812 on May 8, 2021



Alycia was absolutely fantastic throughout the buying process. I'd originally bought another raw diamond ring from a popular (well-marketed) seller, but that ring was stolen. It turned out to be a blessing in disguise because I discovered MossNStone. Ended up getting a far superior ring to the original and my fiancée absolutely loves it. Thank you so much! We'll be in touch soon about bands!
chatoyant77 on Apr 29, 2021


Received my custom salt and pepper solitaire ring and I can't stop staring at it! The stone (dark and moody galaxy diamond) is more beautiful than it was in the pictures (I requested and promptly received). The shop owner was so helpful in the diamond selection, offers payment plans and shipping choices. I searched for months looking for the perfect ring and am so glad I found this shop! I would highly recommend this shop for unique pieces!
Kade on Apr 19, 2021

Absolutely incredible product and great communication. My fiancé loves it!
 Bree on Aug 23, 2020
Awesome communication. Loved the ring and the one of a kind diamond. Very appreciative of the work that was done and will be back for the band!
This was a custom ring for my 10 year anniversary. It is exactly what I wanted. So unique and pretty. The seller responds quickly and worked with me to make me my perfect ring.
Natasha on Aug 19, 2020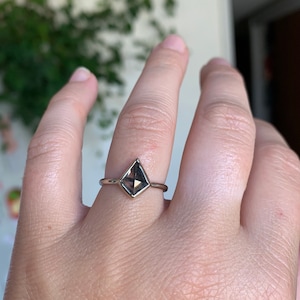 The ring is so beautiful and exactly what I wanted. I asked for a customized rounded thinner band and it turned out perfect!
Brady on Aug 17, 2020
Absolutely stunning. The item description was spot on. The ring is better then expected.
cabel769 on Aug 16, 2020
Everything I was hoping for and more. Arrived on time so that I was able to propose on our vacation and the ring looks even better in person. Absolutely perfect!
Trisha on Mar 14, 2020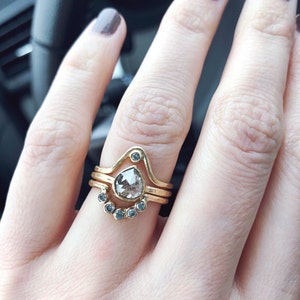 I can't even believe the beauty that is my new ring set. I just can't stop looking at them. Officially obsessed! Alycia was an an absolute joy to work with- I can't recommend her enough!
jazmine8230 on Mar 4, 2020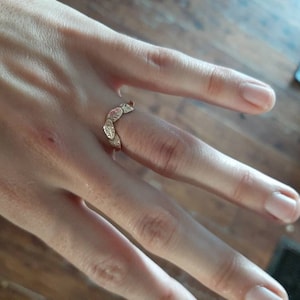 Great communication! Love my band, fits my engagement ring perfectly.
Kodi on Feb 29, 2020
The customer service was great and it took no time at all to get a response back. The wait took three weeks, but god was it worth it! The diamond is beautiful and the craftsmanship on the band is out of this world! I will definitely be recommending MossNstone to everyone that compliments my ring!
Joanna I. on Feb 11, 2020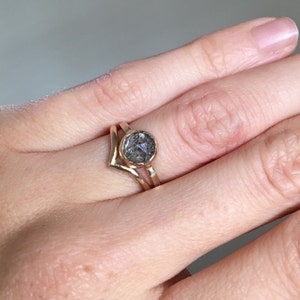 Absolutely stunning diamond; gorgeous design and craftsmanship. This is truly just the most beautiful thing. Alycia is a dream to work with—we went back and forth (a lot!) and she was extremely helpful and patient throughout the entire process. Thank you so so much! I love it.
beckiemarge on Feb 5, 2020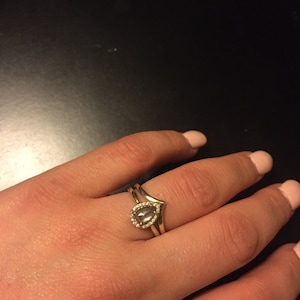 These rings are beyond perfect. My fiancé and I decided to ring shop together because I wanted something unique. We were nervous about ordering something so big without seeing it and trying it on first. Alycia patiently answered all my questions and was fantastic to work with. I wanted to get both my engagement ring and wedding band together and they are perfect. 
If you are on the fence, take the plunge! You won't be disappointed. We love everything about this set. I'm loving wearing my engagement ring and I can't wait to be officially wearing my wedding band!
xsabotage on Feb 3, 2020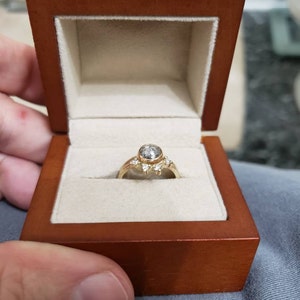 Beautiful ring, thank you!
Nick on Mar 25, 2020
Great communication, great product. Thanks again!
Gregg on Mar 18, 2020
Looks beautiful and unique! I will be buying from mossnstone again for the wedding band. I love it and know she will too!
Engagement ring recipient: 1.5 carat rose pear cut with white gold. Alycia's work is absolutely stunning and is truly art. The real treasure is her professionalism and customer service. She is not happy until her customer is happy! It is truly exemplary! My ring is unique, ethereal, shimmery, I get tons of compliments, and am thrilled with it. We will be coming back for our bands for sure!


Jack on Jan 30, 2020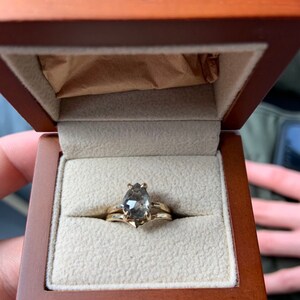 Fell in love with the rings online, was a little timid to order online without seeing it, and love the ring even more now that it's here. Alycia is so sweet and answered any questions I had!!
Casey on Jan 29, 2020
The ring is so beautiful and fits perfectly. It is exactly what I wanted. I highly recommend shopping here. Alycia was quick to respond and so pleasant to work with. I love my ring so much
Jack on Jan 26, 2020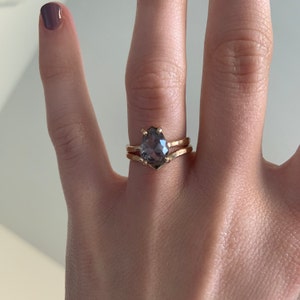 Fell in love with the rings online, was a little timid to order online without seeing it, and love the ring even more now that it's here. Alycia is so sweet and answered any questions I had!!
Janna on Jan 26, 2020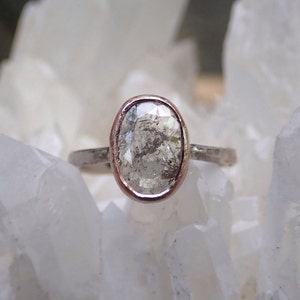 I'm absolutely thrilled with my engagement ring! It's more beautiful than I ever imagined. As a professional artist, I have high standards for craftsmanship, and this ring is stunning. I highly recommend!
wtharris85 on Jan 19, 2020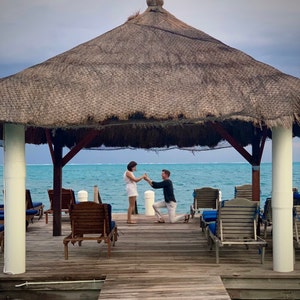 It was absolute pleasure working with Alycia! My fiancé loves the ring and said yes! 5 star artisan! mossNstone's jewelry is a must for that special occasion.
Ring came out perfect! She was ecstatic. I was a little worried about purchasing a ring online but everything went smoothly. Thanks again!
Maddy on Apr 1, 2020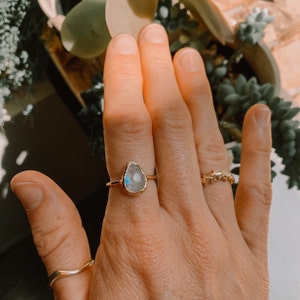 My custom moonstone ring is exactly what I wanted. It's dainty, yet raw and natural. Alycia was SO helpful, and does everything she can to ensure that her customers are 100% satisfied. I highly recommend this shop for the incredible customer service and beautiful quality. Thanks so much!
Ring recipient stepping in to write the review! Ohmygoodness this ring could not be more perfect. Absolutely beautiful artistry and quality craftswomanship. I adore it & I'll be proud to wear it for a lifetime.
*Thank you* for your work & for being so communicative with my fiancé so he could give me this custom ring!
Hayley on Mar 27, 2020
I am very happy with my ring! The quality is great and exactly what I was hoping for. MossNstone was super easy to work with and responded quickly to all my messages. Thank you!
Beautiful ring!! Great seller she worked with me on shipping and style. It's such a beautiful piece! Even more that the picture shows. My husband and I are both very happy with this ring!!
jpishaq on Jan 11, 2020
Alycia was fantastic to work with, delivering an absolutely stunning and unique ring for a great price and even sooner than I expected. My fiance is thrilled with it. Definitely an artist and jeweler to work with - highly recommended!
Brendan on Dec 9, 2019
Beautiful stone and setting. Very responsive seller.
Expertly crafted earrings. Turquoise and Gold is such a beautiful combination. Thank you so much!
Kelsey on Oct 30, 2019
My partner is IN LOVE with this ring. The diamond is beautiful, it's dimensional and unique. She gets compliments everywhere she goes. Alycia was so sweet to work with, and the turn around time was much quicker than expected. It came in a beautiful wooden box. Highly recommend this shop!!
JShelley119 on Oct 28, 2019
What a beautiful piece!!!! Wonderful craftsmanship,We love it! Thanks so much!!!!
nyynatee on Sep 18, 2019
Amazing experience. The ring is absolutely stunning and perfection. I can't wait to give it to my other half thank you !🙂
I am so grateful for my engagement ring. It is absolutely stunning, and feels equal parts elegant and organic. The return time was incredibly quick and the seller was responsive, and aided us with everything we needed. Thank you again to mossNstone!